Do you use a lot of samples when producing your music? Then you really must have Momentum by Big Fish Audio as your plugin to make the most of them. 
This plugin is a powerful loop transformation platform that allows you to slice, stretch, change the key, rearrange, and compose from multiple samples and sources, as well as find the perfect one-shot inside the loop in the most practical way. 
And… wait a moment. You can just download it right away while we talk a little bit more about it. And use it, since it's free. 
So, are we now ready to continue? Let's have a look at the main features! 
Loop libraries store
In case you didn't know, apart from creating plugins, Big Fish Audio is one of the most important producers and distributors of high quality royalty-free sample libraries. So the first thing you will notice when you open the plugin is the browser on the left. There you'll see both a files library and also their store, which is ready for you to find and listen to any loops, beats, and sample libraries of any style that you may need.
Upload your own samples
Big Fish Audio has a series of plugins calles KLI (Kontakt Loop Interface) that have a powerful interface for tweaking loops and sounds, and Momentum is, fortunately for us, included here and has many ways of doing so. Then, the first thing you'll be glad to learn, is that you can have control over more than one loop in just one platform. 
If you want to use your own samples, just drag them into the plugin: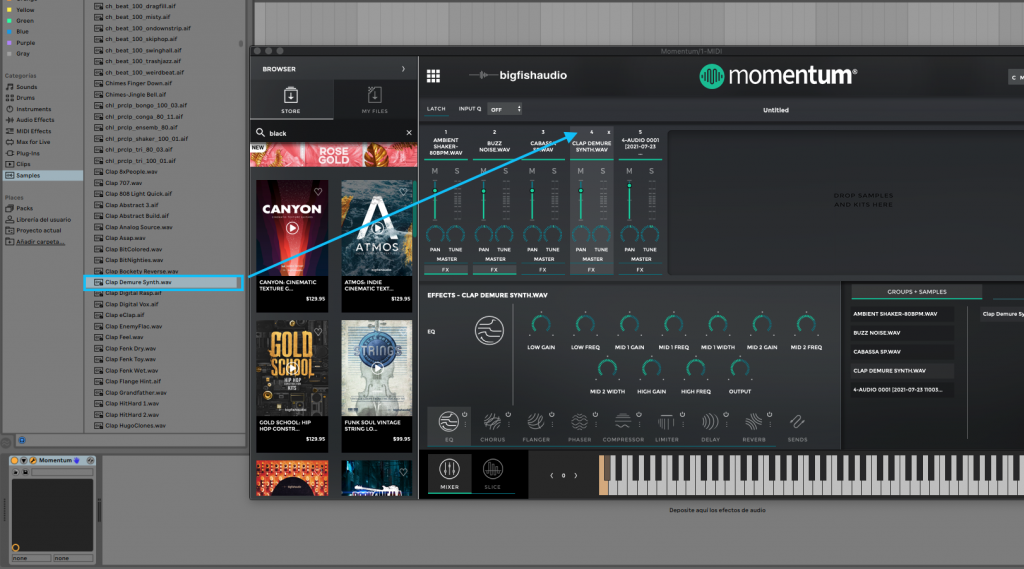 Control all your samples from the 'Mixer' section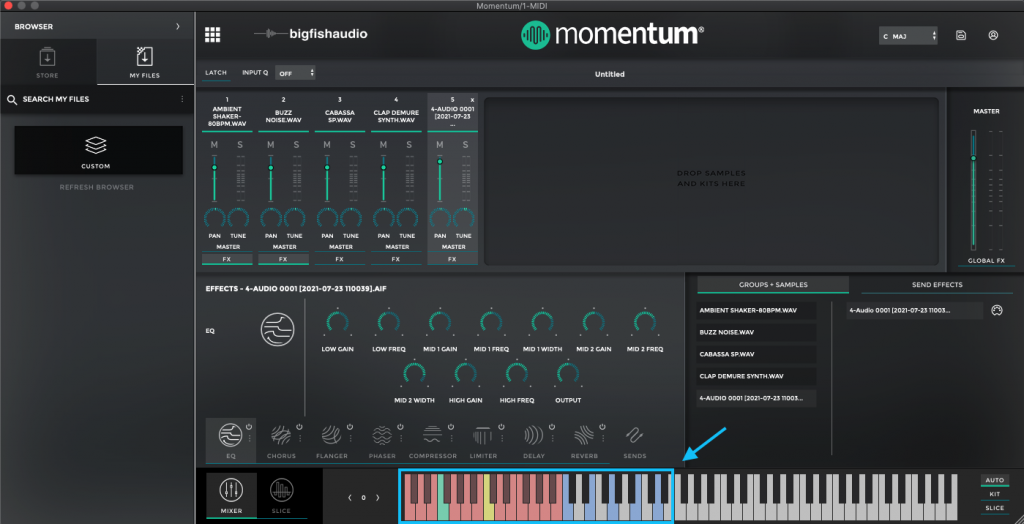 In this picture above you will see we have uploaded some of our own sounds, which can be triggered with the blue keys. Momentum syncs all your loops to the host tempo of your DAW and pitches all samples to the average key (yellow key). You can change this general key by clicking another red key (which turns into green).
However, you can make specific key and tempo changes if you go to the 'Slice' section of each channel: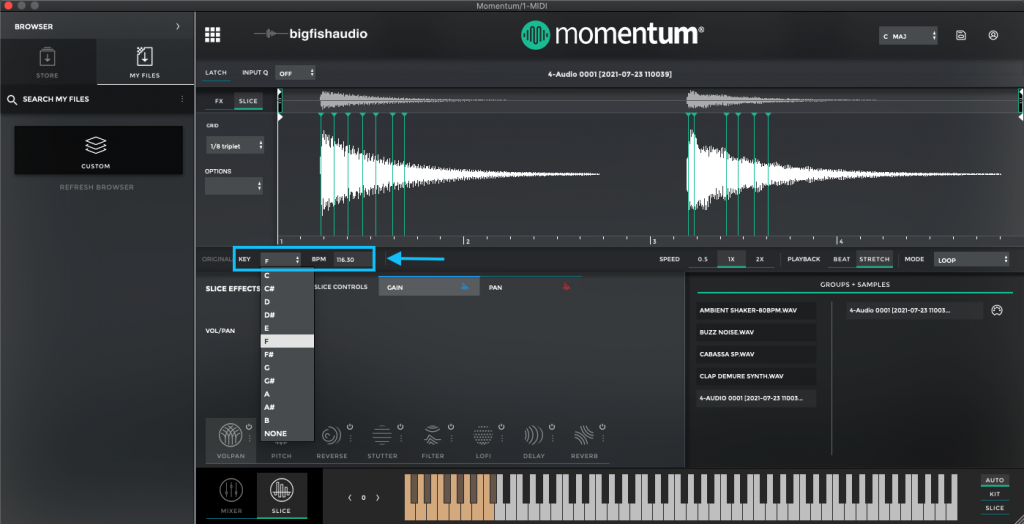 Going back to the 'Mixer' section, every channel has its parameters (volume, pan, tuning, etc.) and also its own FX options. These FX are different from the FX of the 'Slice' section, which we'll see later on. These FX are applied in general to the whole sample. If you click on the three points next to each icon, you can change the effect from a wider list: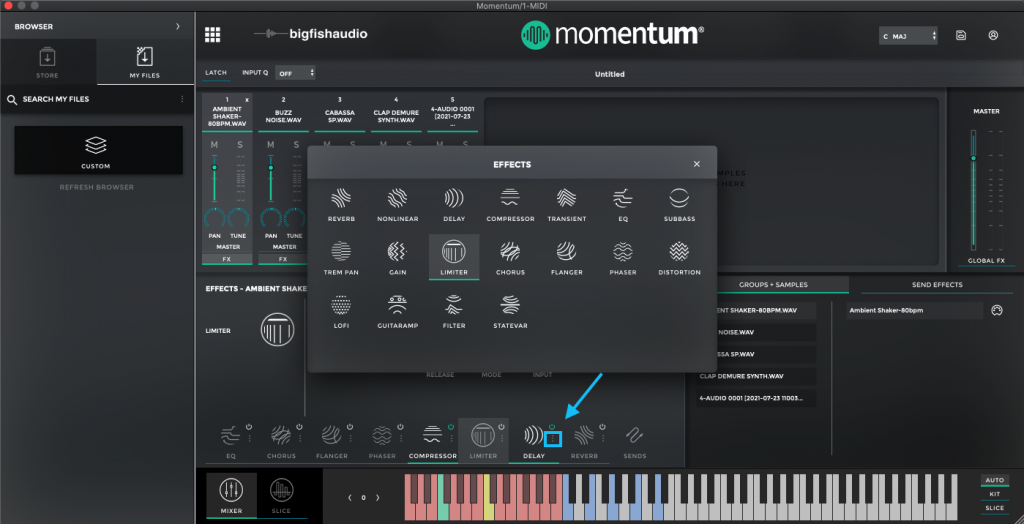 Work to detail in the 'Slice' section
Before going to the 'Slice' section, click on the channel in which you have the loop you want to work on (you can also choose the sample from the 'Groups+Samples' box). Then click on the 'Slice' icon and be ready to have fun playing with your sample.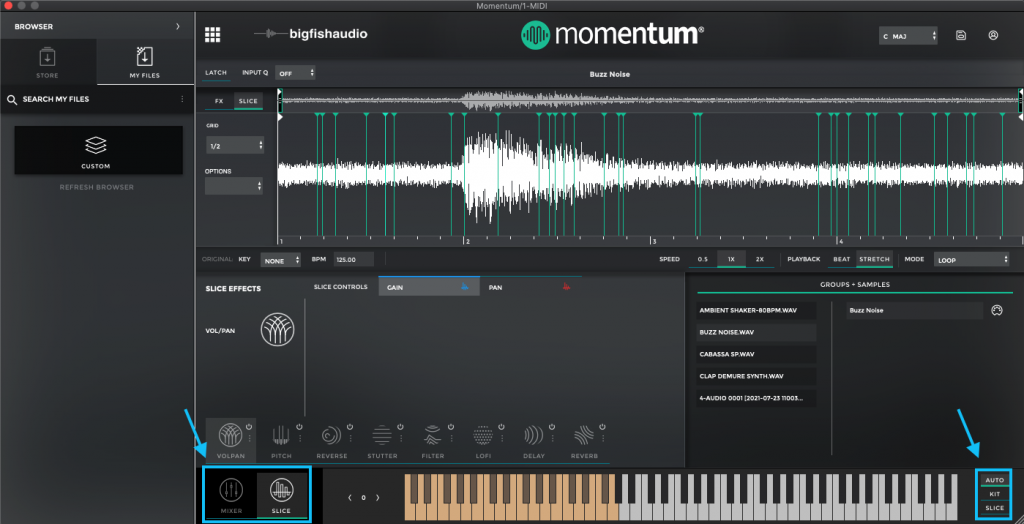 If you have your Keyboard set to Auto (menu on the right) you'll notice the keys automatically change to yellow when you go to the 'Slice' section. If not, just click on the Slice option. This way, you can play each bit which your sample has been sliced in. 
You can change the way which your sample is sliced in by adjusting it next to the audio form, or you can adjust each slice individually by moving the green arrows: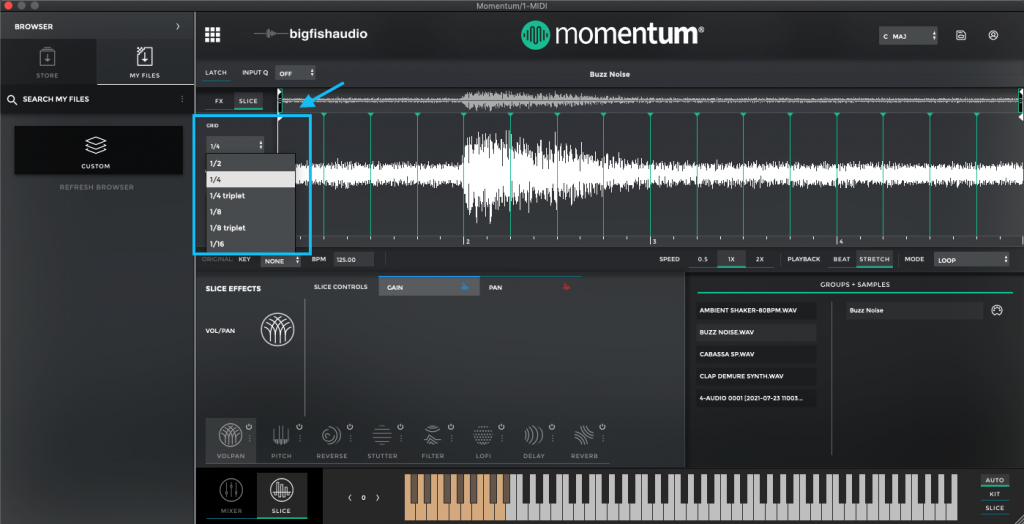 And you can adjust the range of your sample and set different play modes: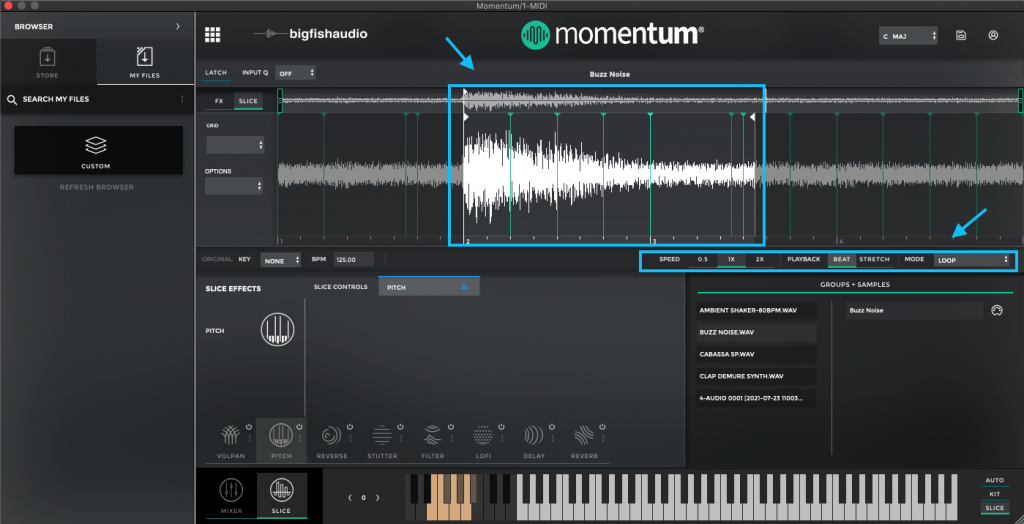 Slice FX
Now we are getting to the most interesting part of this plugin, which is the accurate FX you can apply to each slice of your sample. You can edit each slice as you like, or edit just a few and create patterns from it: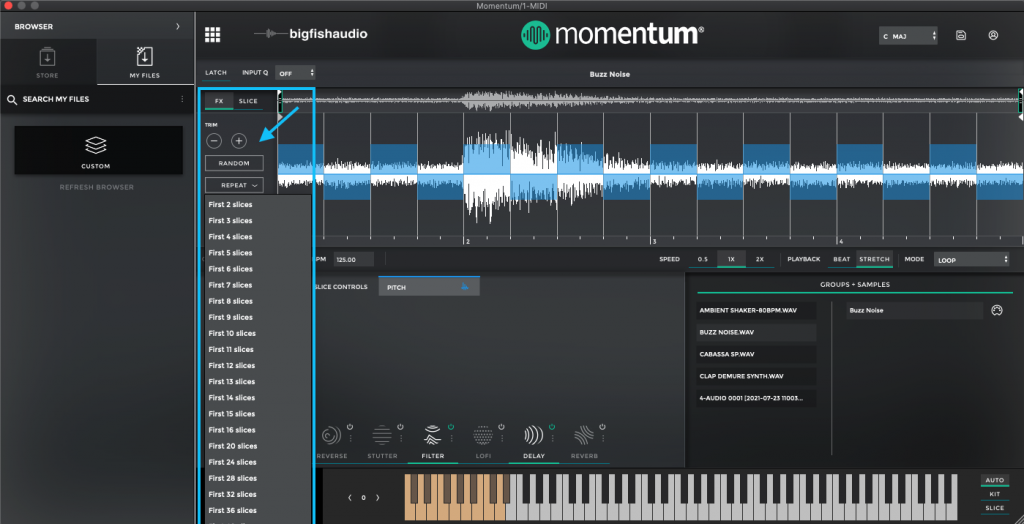 You can add not only high quality sound filters and different effects, but lots of complex pitch and shape sound adjustments to completely transform your samples into whatever you like.
Take your sample to the DAW arrangement
By dragging the MIDI icon to your arrangement, you get your notes in a MIDI clip which you can edit to play the notes you like, so you don't have to trigger the keys yourself anymore.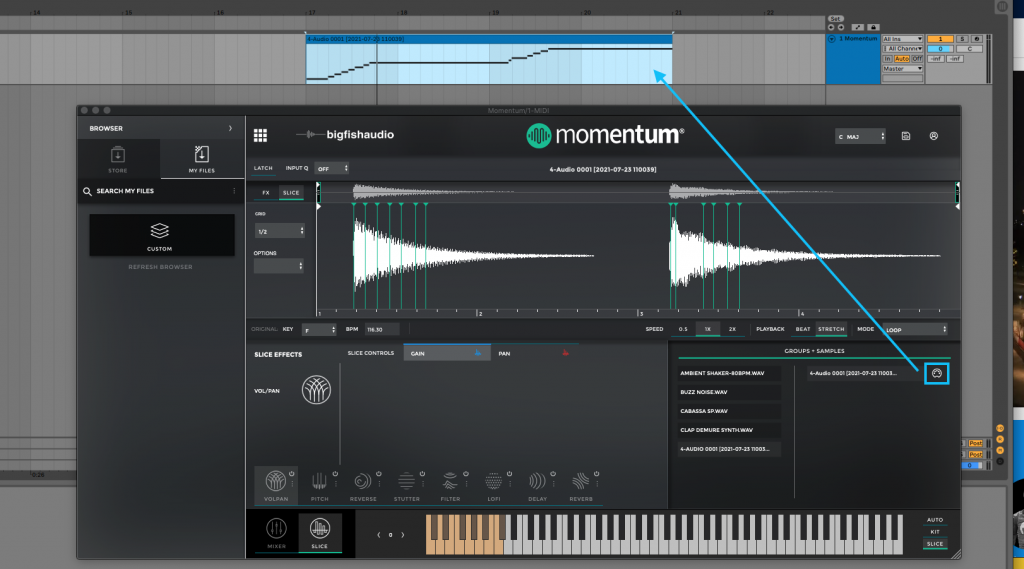 Learn much more about it
So far we've mentioned some of the main features of what we think is a super powerful loop transformer so you come to know about it. We hope this article helped you to have a quick overview so you can have fun with it right away. 
However, you can learn a lot more about what you can do with this plugin by watching their long tutorial on youtube: