So you've just finished producing your new track, which you spent a whole lot of time mixing to make it as balanced as possible. You're tired but excited to upload it to your Soundcloud, to publish it yourself or send it to a record label…but wait. It still doesn't sound similar to other tracks in your genre, or to the tracks you've been using for reference when mixing. If you prefer to learn how to master your own tracks and discover new music skills with award-winning experts check out the available learning plans here.

What is mastering?
So, that's right. There's still a last step: mastering. During mastering, the overall volume of the song is adjusted so it's ready for commercial release and it's more appealing to listeners. However, as Robert Babicz will tell you: "Mastering is not just about making things louder, it's about really listening to a song and seeing what it needs to sound better". Additional audio treatments are applied to the mix to correct problematic frequencies and enhance the musicality of the track, if needed. 
However, what if you're in a bit of a rush to completely finish your track, or you just don't have any more budget for this particular track in order to hire a mastering engineer? Of course you could try to master it yourself, although if you haven't got much experience on it, you may just unbalance your track again, especially when lacking "fresh ears" after having listened to it so many times during the mixing process. 

Automatic Online Mastering
In this case, then you can opt for trying many of the online mastering services or automatic mastering apps available in the market to achieve a quick fix. These apps have complex algorithms which use artificial intelligence capable of analyzing, detecting and applying different adjustments to every song in an individual way.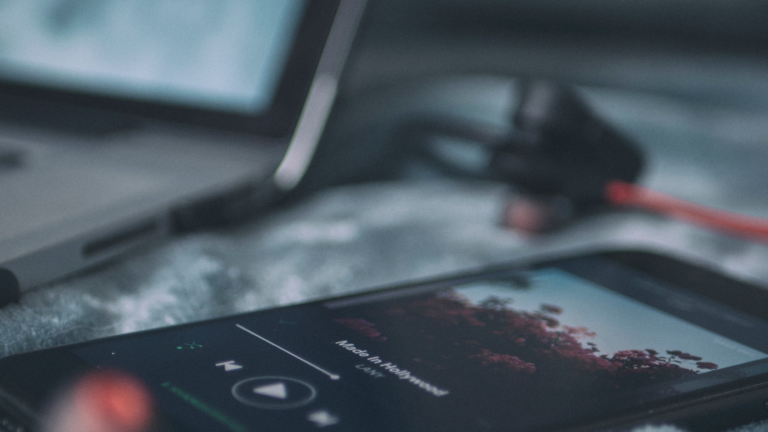 They're never going to be at the level of the human touch of a professional mastering engineer but they're there to be tried. And a good advantage many of them have is that you can have a quick listen to what the results will be before compromising to pay and applying it to the whole track. Some are even for free when you just want to download an Mp3 file.
Let's now have a look at some mastering apps that we've tried at Aulart, and that you should definitely check out too:  

1. Landr
Landr allows us to test its magic through its free library platform before committing to a subscription . We tried it and loved the sound! We noticed a clean powerful change that really enhanced our track. We couldn't hear different styles and intensities in the test mode, but we assume they help a lot to give the extra touch that you're searching for on your track.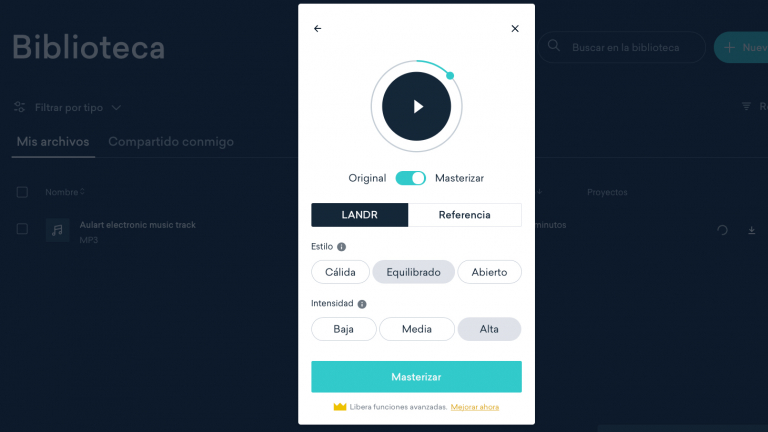 In addition to being able to use reference tracks, Landr users can load entire albums for mastering though bulk uploading, which really helps to achieve a unified and cohesive sound among the tracks of your album. 

2. MasteringBox
MasteringBox didn't let us adjust the different features in the demo mode either, but it let us save an Mp3 file of the standard version which sounded really good! Of course it's better to always get a good quality format file, but it can become very helpful to compare results with other versions.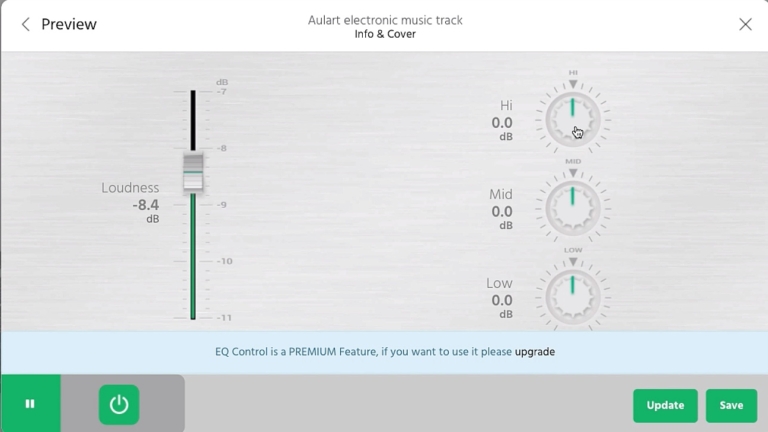 It also offers bulk uploads and has an attractive interface which makes it easy for its users to control the different parameters.

3. Cloudbounce
Cloudbounce is a product of the Abbey Road Red, related to the famous Abbey Road studios. So, far from being worried about Artificial Intelligence substitution, they are aware there are people who can't afford the full mastering service, so they offer both the options of an automatic online version and also of sending your track to their experienced mastering engineers at the studio.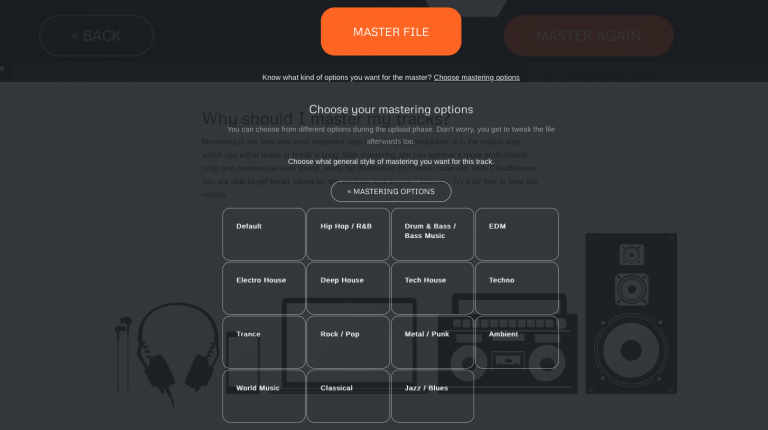 As for the AI online version, it lets you choose from a wide range of genre styles to give a particular touch to your track, with very good results. It of course lets you listen to the changes before paying to download the different audio format files. 

4. eMastered
We also liked the user-interface of eMastered. And more than that, the fact that they're very interested in getting your feedback to keep improving their algorithms! We had a chance to listen to two not bad at all versions, their eMastered I one and to a Beta II version which we could rate.
We were able to tweak all parameters (volume, the compression, EQ, etc.) and even to upload a reference track so the engine of the app used it as a guide when mastering. However, we found it may not be the best pricing option if you're only interested in mastering just one or two tracks from time to time.There's not a one-track download option, and you might benefit better from their yearly plans.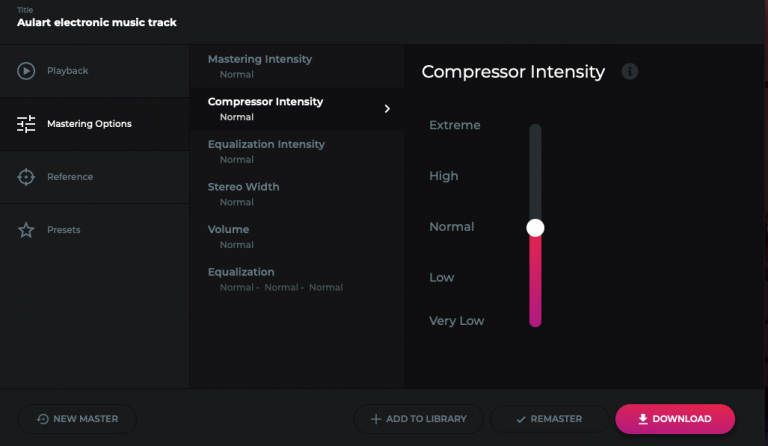 5. Majordecibel
Majordecibel lets you master and download into Mp3 two tracks per month without paying and not even creating an account. It lets you compare the results to the original, and choose the mastering intensity. We noticed a slight more aggressive result in EQ terms when delivering the standard demo master, but it can be nice if you are looking for that. 
If you didn't like it though, you can sort that out by upgrading and accessing the EQ parameters to your taste. Then you can also download the tracks in better quality formats.

6. Gloss – FREE!
Gloss, a product by Popgun, is totally free and doesn't need you to create an account, although it only provides Mp3 files of your mastered track. We just noticed a slightly darker result compared with the other versions but it sounded cool. 
Also, we found it really helpful that after the process it would tell us the 'few things they had polished'. In our case, it told us our track had needed bass control, some warmth processing and some space created for the track to breathe. This can be a great tool to have a pre-analysis for you to go back to the mix and make some adjustments there before proceeding to the mastering step.

Conclusion
After trying them all, we can't say any is better than another. We couldn't make up our minds in fact. Of course all these results could improve a lot in the hands of an experienced mastering engineer, but taking into account these are automatic mastering processes, none of them are bad to have a good preview of what your track could sound like after a good mastering process. 
Our advice here would be to try them all and choose the one that gets your track the closer to how you think it should sound like. And how do you know what it should sound like after listening to so many versions? Well, we know it's difficult, but just remember to go back to your reference tracks anytime you need to, and you will keep the madness away!