For a professional sounding mix you need the best top quality EQ and Compression and if you are on a budget that can be a challenge. Here's how to get the pro sound for free, with this selection of crucial great sounding audio processing tools for your DAW
The bedrock of any great mix is compression and EQ. You need quality, and you need the right tools for the job, so here's some options for you to pick just what you need and tips on how to apply them. 
Compressors
A compressor helps control the dynamics of your audio by automatically turning down the volume if the input signal goes over your defined threshold. The threshold is one of the three vital parameters. A ratio control sets the amount which the audio is reduced while it is over the threshold. The attack control affects how quickly the reduction in volume takes place after the peak is reached  and the release controls how soon it returns to parity with the input after falling below your threshold.
In addition to those factors some compressors are designed to sound as clean and transparent as possible, while others are created to give a more vintage or coloured sound. 
Important technical details to watch for: volume alterations and "colouring" features require oversampling to make sure you aren't getting any harsh digital artefacts on your audio, so we've chosen plug-ins which make use of the very best techniques to get the best and most professional sounding compression.
Clean and Transparent Free VST Compressors
TDR Kotelnikov
The TDR Kotelnikov is a spotless clean and transparent EQ perfect for mastering without colouration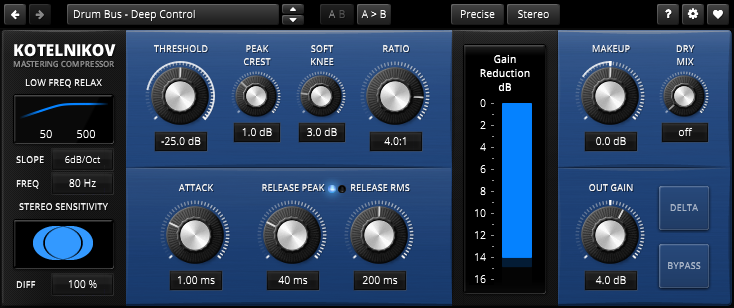 TDR Kotelnikov is a wideband dynamics processor combining high fidelity dynamic range control with deep musical flexibility.
64bit multi-rate processing structure for highest accuracy
"Delta" oversampled signal path (bit transparent at 0dB gain reduction)
Super fast, yet natural sounding compression
"Crest factor" based control scheme offering independent release controls for peak and RMS events
Flexible sidechain highpass filter
Advanced stereo linking options optimized for the stereo bus
Delta preview mode previews the difference between compressed and original signal
Latency compensated, click free bypass (i.e. processing never interrupted)
User interface rescaling (100%, 125%, 150%)
Get this fantastic pro quality clean and transparent sounding compressor here : https://www.tokyodawn.net/tdr-kotelnikov/
Colourful Vintage Compressors
What's a vintage Compressor?
While most compressors aim to modify the volume without tonal colouration many vintage units add "warmth". This tonal warmth was created through what are known as "non-linearities" in the volume adjustment, mild harmonic distortions which give a colourful sound. If you need to add warmth, grit, pumping, saturation to an instrument channel or a buss then you need a vintage or character compressor.
Rough Rider – a free vintage style compressor
Rough Rider by Audio Damage is a very popular vintage colourful compressor which will add real flavour to your mix. Rough Rider is a modern compressor with a bit of "vintage" style bite and a uniquely warm sound. Perfect for adding compression effects to your drum buss, it also sounds great with synth bass, clean guitar, and backing vocals.

Definitely not an all-purpose compressor, Rough Rider is at its best when used to add pump to rhythmic tracks. Of course, you can use it however you'd like. The Compressor Police aren't gonna come to your house and give you a citation. Slap it on a track and crank some knobs.
It's freeware and is available here
https://www.audiodamage.com/pages/free-downloads/
Equalisers
An equaliser is your tone control for everything you do, from the simplest sound to the whole mix, EQ is used everywhere.  But different EQs have different qualities, so what's the best?
Well, choosing the best EQ depends on where you want to apply it, a single drum might only need a simple tilt control, while a submix of drums might benefit from a subtle saturating vintage EQ. and a mastering scenario might need a very clean linear phase EQ with great precision.
It's very likely that your DAW is well featured with a very well specified and well designed EQ already, but what if you want something with more unique qualities, to give your mix that professional edge?
A simple Tilt EQ
A Tilt EQ optimises the balance between bass and treble with one simple control at the highest audio level.
HOFA 4U+ – free tilt EQ
The HOFA 4U+ is freeware and has quick and simple controls but great sound for those moments when you want to use a simple tone control without compromising your quality. 32 times oversampling takes the processing to professional quality, ensuring no unwanted digital noise creeps into your mix.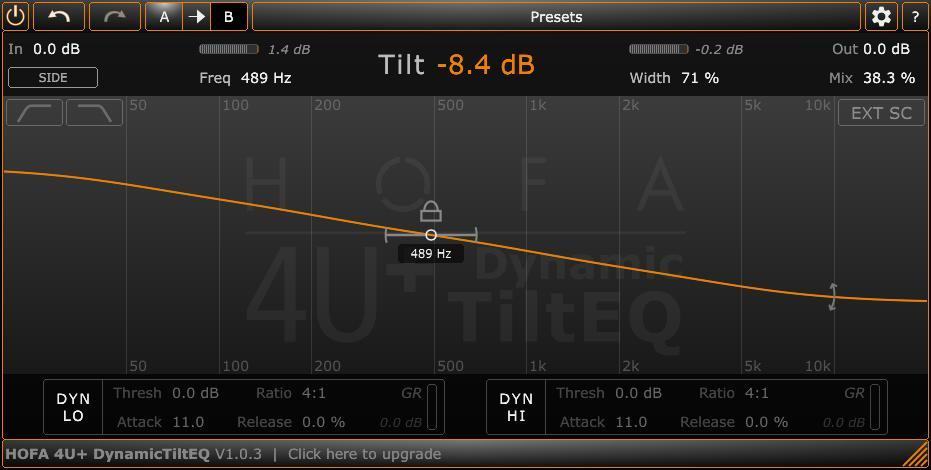 The HOFA tilt EQ is free, though the site requests you to pay if you want to unlock the full version.
Get the HOFA tilt EQ here https://hofa-plugins.de/en/plugins/4u-dynamictilteq/
boost/attenuation of up to 24 dB
variable tilt width for transparent adjustments as well as musical sound shaping
process bass and treble seperately
low cut and high cut filter (6 & 12 dB/octave)
individual routing for stereo, mid, side, left and right processing
up to 32x oversampling
support for Mac and PC, 32- and 64-bit DAWs
The most complex thing about this free EQ plugin is the install method, which requires a special installer, as described here. 
https://www.pluginboutique.com/product/2-Effects/16-EQ/4608-4U-DynamicTiltEQ/
A semi-parametric EQ
A parametric equalizer offers continuous control over the audio signal's frequency content, which is divided into several bands of frequencies (most commonly three to seven bands)
Blue Cat's Triple EQ – Free parametric EQ
The Blue Cat triple EQ is a simple three band, semi-parametric EQ that can be controlled with a single mouse click. A shapeable filter for your DAW with full MIDI control over the bands and an intuitive layout.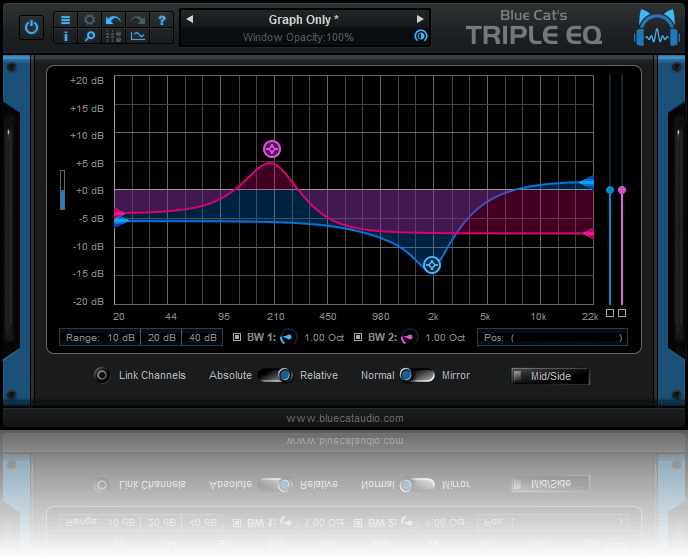 3 bands semi-parametric equalizer / shapeable filter.
Dual Mode: independent left and right or mid and side channels control.
+-40 dB range for each band.
Automatic gain compensation.
No latency.
Real time display of the frequency response with precise measurement and zooming capabilities.
The Blue Cat parametric Equaliser is available here https://www.bluecataudio.com/Products/Product_TripleEQ/
A mastering EQ
Mastering EQ needs to be clean and transparent, that means no colouration and if possible oversamples linear phase filters to prevent transient smearing which can happen with normal EQs. Non-linearities are great for "colour" but if you have your mix nice and punchy then you need a mastering EQ to make those subtle equalisation improvements without distortion .
A linear–phase equalizer uses linear–phase filters. This means that when a signal goes through the filter, all frequencies should experience the same time delay (known as "pure time delay"), which preserves the wave shape as much as possible, because if different frequencies go through at different times that results in "transient blurring". The only pitfall of Linear Phase EQ is a higher CPU processing requirement and a greater overall latency, which makes them generally unsuitable for single tracks -but perfect for mastering.
Voxengo Marvel – FREE Linear Phase Mastering EQ
Voxengo Marvel may not look as shiny and modern as some other EQs but when you want to master a track it has all the functionality you require.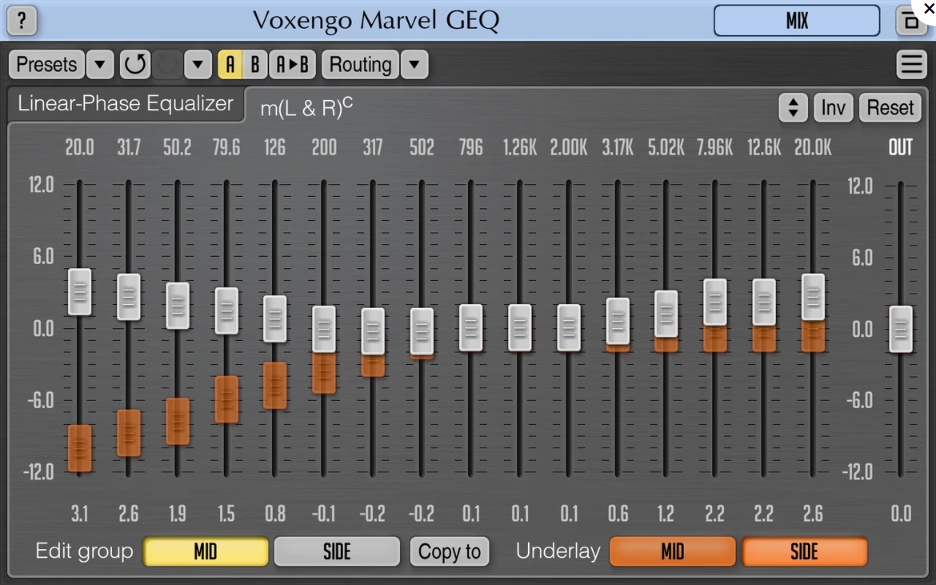 Marvel GEQ is a linear-phase 16-band graphic equalizer AAX, AudioUnit and VST plugin with multi-channel operation support (supporting up to 8 input/output channels, audio host application-dependent) for professional streaming, sound and music production applications.  Marvel GEQ offers extensive internal channel routing capabilities, and supports mid/side channel processing.
16-band graphic equalizing
Freehand drawing mode
Linear-phase equalizing
+/- 12 dB gain range per band
Stereo and multi-channel processing
Internal channel routing
Channel grouping
Mid/side processing64-bit floating point processing
Preset manager
Undo/redo history
A/B comparisons
Contextual hint messages
All sample rates support
9 ms compensated processing latency
User interface color schemes
Resizable user interface
Retina and HighDPI support
Get this free plugin Voxengo Marvel Mastering Equaliser here: https://www.voxengo.com/product/marvelgeq/
Also try TDR VOS SlickEQ
https://www.tokyodawn.net/tdr-vos-slickeq/
Dynamic EQ
What's a Dynamic EQ?
It's a combination of an EQ with a multiband compressor. A dynamic EQ has all the equalising functions of a normal EQ, but also on each band there are compressor functions like ratio, attack and decay. So where a normal EQ stays static a Dynamic EQ responds automatically to your audio.
A dynamic EQ is great for punching up your drum mix, or A very complex and powerful tool, and NOVA is a great sounding and totally free version with a world class interface to show you exactly what's happening to your sound.
Where would you use one?
Imagine a situation where you want to turn down the frequency at 4k only when it goes over a certain level…  The uses are many, ranging from De-Essing by having the Dynamic EQ watch the sibilant frequencies and old reduce the volume on those, to other full-mix and mastering effects.
NOVA by Tokyo Dawn Records 
Saving the best for last … NOVA is a free dynamic EQ plugin which truly is as good as any pro plugin. Use it to shape your sound and rival the likes of Neutron by Izotope or Waves F6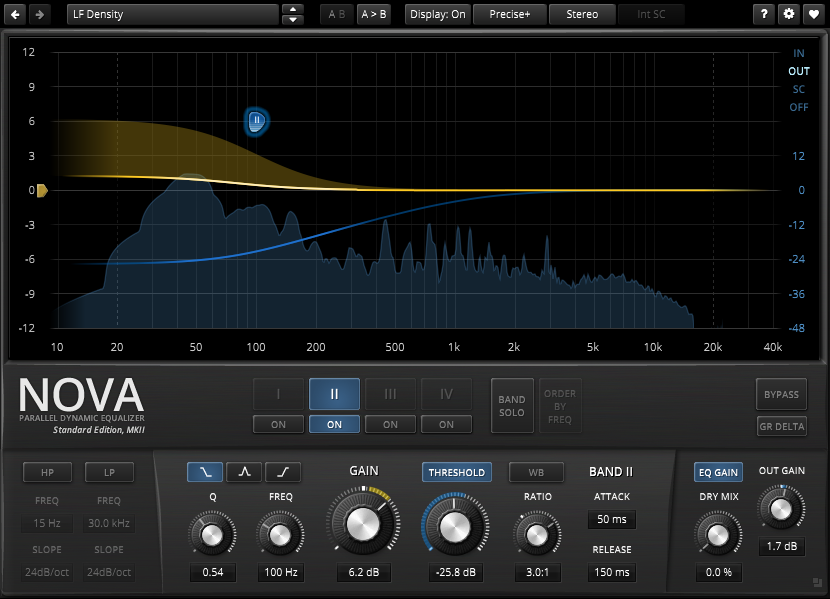 NOVA is capable of
Parametric equalization
Dynamic equalization
Frequency selective compression
Multi-band compression
Wideband compression
It really is a vital piece of your mix toolkit, and it is incredibly powerful.
You can get NOVA here, it's free and one of the best dynamic Equalisers available for your DAW https://www.tokyodawn.net/tdr-nova/