Technology in the music production field keeps on advancing and evolving seamlessly, with loads of new instruments, effects and libraries being released every week.
The price might be a problem though, especially if you're getting started and don't want to invest huge amounts of money in something that you're not sure of. But when it comes to plugins, there's a lot of very powerful free options in the market, and today we've selected 6 of our favorite ones for you, as they are a must-have in any studio.
1. Vital
If you are a fan of wavetable synths such as Serum or Massive X, with an insane amount of modulation options and loaded up with effects, you're going to love Vital. It's got everything when compared to the ones we mentioned, matching their sound quality and sound design possibilities. 
Vital comes with 3 wavetable oscillators featuring spectral warping and unison capabilities for each individual oscillator; a sampler as a fourth sound source; 2 filters with more than 20 different modes and routing options; 3 envelopes, 4 custom LFOs and 2 random generators that allow us to modulate any parameter you can see in every section of the synth; 4 macros to control different parameters at the same time; MPE functions such as Polyphonic Pressure; a selection of 9 top-quality effects and so much more.
We want to highlight the amazing user interface, which is not only visually pleasing but also very informative and useful, since it has animated controls so you can see everything that is happening in real time.
Vital offers different options of purchasing, but the free one has all you need when it comes to creating your own patches, while the paid version brings bigger preset collections and extra features to the table.
It's available on Windows, Mac and Linux and you can get your license here.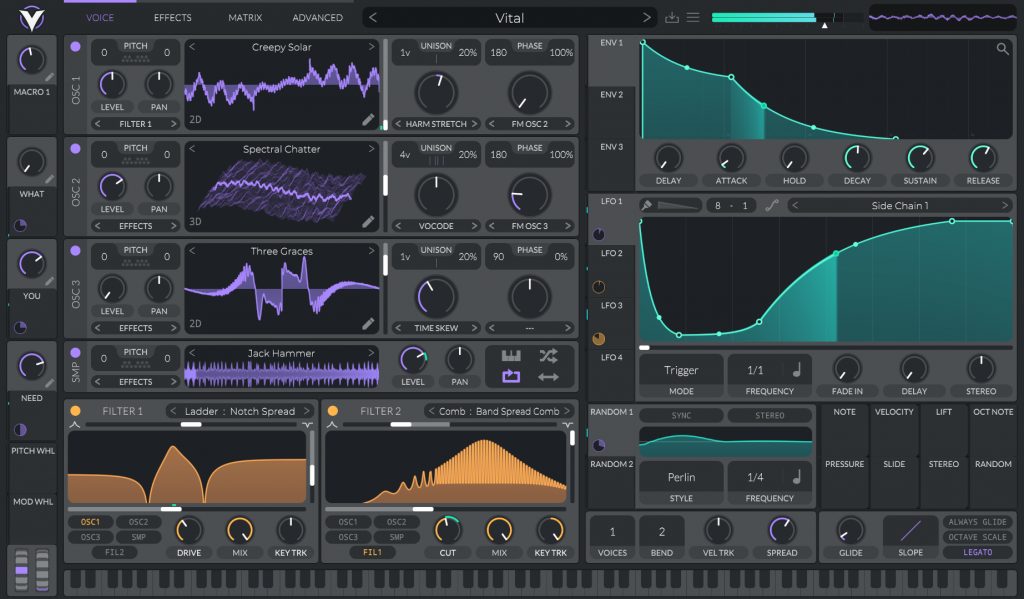 2. Surge
Another outstanding free virtual synth, in this case an open-source plugin that has been developed and improved by its community over the years, turning it into the beast that it is today.
It features 2 scenes, with 3 oscillators each that can work in 12 different ways, from the classic morphing oscillator with basic waveforms to complex FM algorithms, noise generators, and other oscillators modeled after famous Eurorack modules. It comes with 2 filters that have 8 different setup options and 7 routing options, 12 LFOs and envelopes that can modulate any parameter you can think of, and 24 diverse and powerful FX algorithms, turning this plugin into a really powerful tool for sound design.
It's not as visually appealing as Vital, but it definitely stands its ground regarding sound quality and possibilities. Furthermore, it comes loaded with more than 2000 presets and 600 wavetables, so it will be useful even if you are not a synthesis expert.
It's available for Windows, Mac and Linux and you can grab it for free here.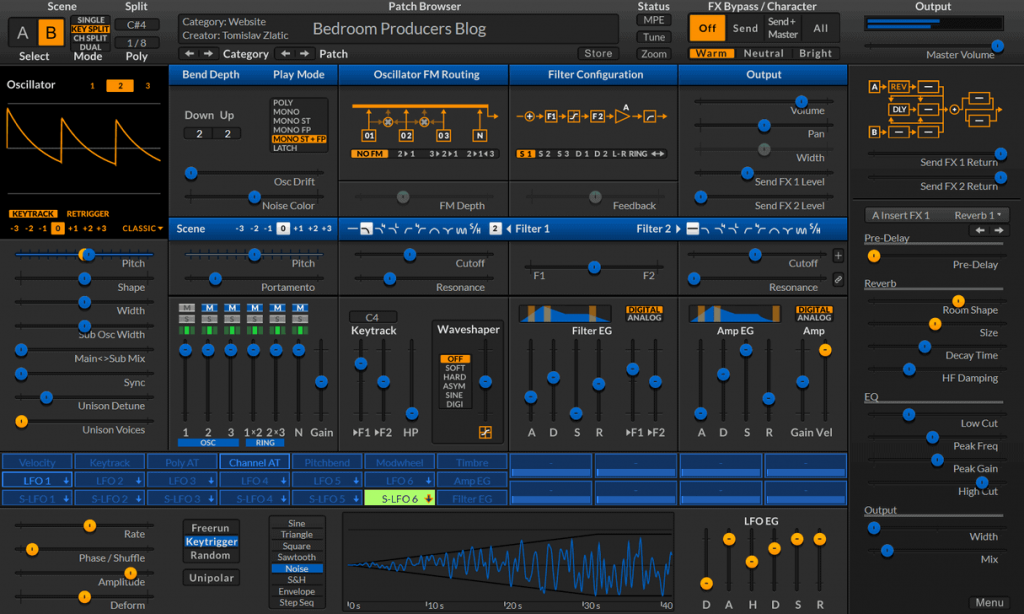 3. Hvoya Audio Ribs
Now it's time for a plugin that can work either as a synth or an effect, thanks to a powerful granular engine that allows us to process samples or audio signals, splitting them into tiny grains for further manipulation and processing in order to achieve really interesting textures and sounds.
We find that the user interface it's not the most intuitive and its controls are very particular, so even if you're familiar with granular synths and effects, you'll probably need to spend some time getting to know its functions and understanding all its possibilities. When you do, all the effort will absolutely pay off, since it's loaded up with amazing and unique features that will lead you to mind blowing results. 
Ribs is available for Mac and Windows here.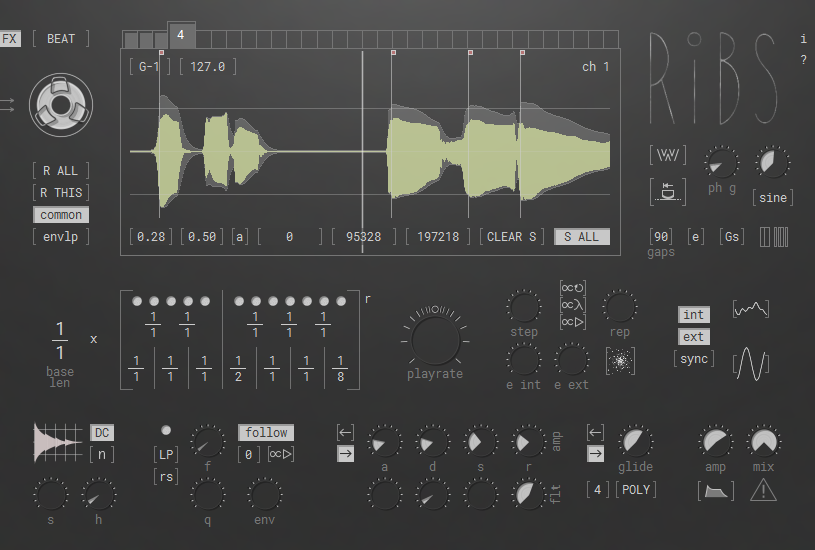 4. Softube Saturation Knob
Following up with more effects, it's time for a plugin as simple as it is effective, delivered by a very well known developer: Softube. 
Its name sums it all up, all you can find in the plugin is a big saturation knob that lets us choose the amount of drive we want to apply. Besides that, the only option available is to choose whether to focus on bass, high frequencies or the whole spectrum. 
We know there are lots of more versatile and complete saturation units in the market, but its simplicity is only comparable to its effectiveness and to the quality that the Swedish brand is known for. 
Works on Windows and Mac and you can get it for free here.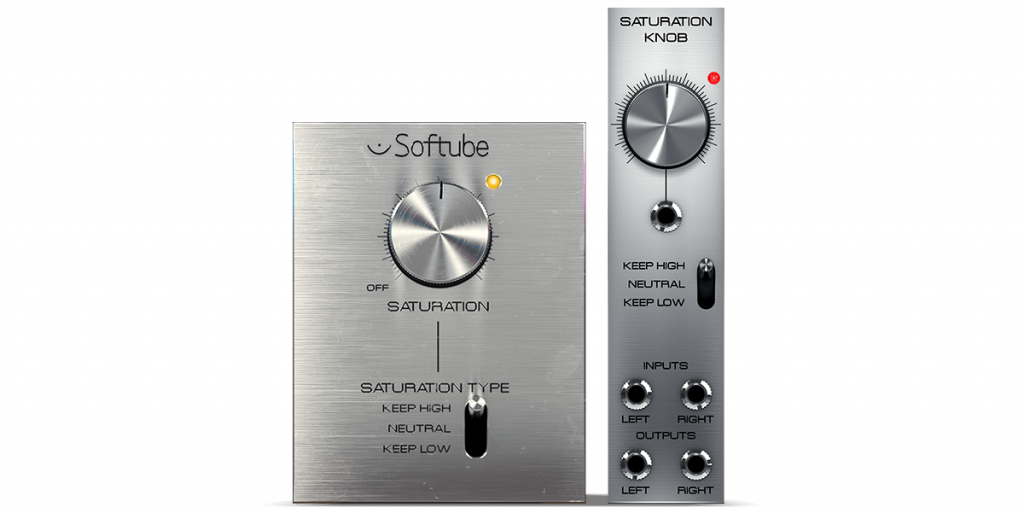 5. Slate Digital Fresh Air
Another great simple but effective FX plugin, also developed by an established brand. It's an aural exciter based on classic vintage hardware circuits and complemented with cutting-edge noise reduction algorithms, delivering that brightness and clarity to the higher frequencies without messing up the audio signal.
It comes with a couple of big knobs, one to control the amount of process we apply to the mid-high frequencies and another for the highest part of the spectrum. It also features a trim control for the output and a bypass button, but that's it. And that's all it needs to bring the desired brightness and presence of the big productions into our tracks.
It's on Mac and Windows and you can get it here.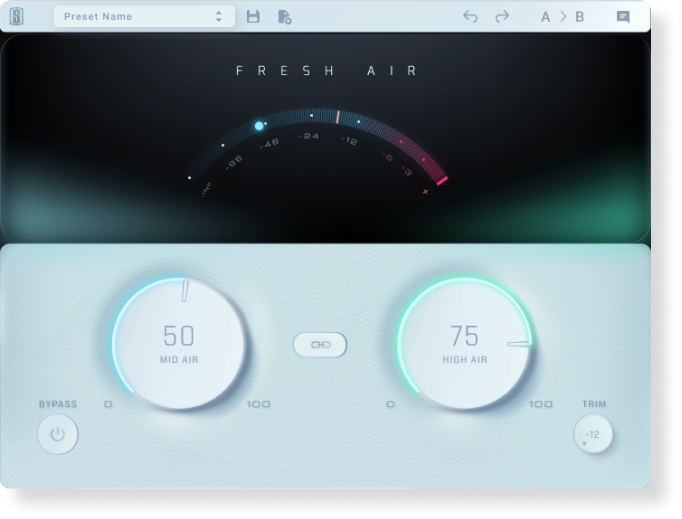 6. Valhalla Supermassive
Valhalla is a company which has specialized in Reverb and Delay effects of all kinds, and that's what we have here as well. Supermassive is a combination of Delay and Reverb designed to build huge clouds of reverb, lush, twirling, endless delays and everything in between. 
It features 8 different algorithms for a variety of results, and we have controls for Delay time, Feedback, Warp, Density, Modulation depth… the effects that we can achieve are diverse and exciting, making this plugin a staple for modern sound design.
It's available on both Mac and Windows and you can download it from here.