In recent times there's been a noticeable new trend of Acid infused productions in the electronic music dance scene, and we can find the signature squelchy sounds created in he Roland 303 across any genre. It's worth to mention the new wave of rave techno, with artists such as Regal, whose Masterclass includes thorough information about this iconic sound, its story and how to get it for your own music.  
Finding an authentic, second-hand Roland TB 303 is not easy, and definitely not cheap, but thanks to all the developers and manufacturers that have been releasing clones and software emulations since the 90s, we have a variety of different and much more affordable options that recreate the unique flavour of the beloved bassline synthesizer. 
Hardware
A lot of clones have been put out over the last 25 years, even modified models such as the infamous Devil Fish, but some of them are as hard to get your hands on as the original device, so we'll focus on the four products that are currently available in the market.
Roland Boutique TB-03
First, we have the original Japanese manufacturer, doing a great job in bringing the character and sound of the original into this little piece of digital hardware thanks to their ACB technology, although we find that it falls behind when compared to the clones built on analogue circuits that we will see next. 
The built-in sequencer is slightly improved, adding a new step edit mode to make pattern writing a bit simpler, but it can still be a struggle when compared to other alternatives with more modern approaches.
There are some very interesting additions such as overdrive and delay effects with onboard controls, a small LED display and enhanced MIDI connectivity via USB.
To further enhance its portability, the synth can be powered by four AA batteries that are supplied, but also by connecting the USB cable. The downside of this portability is the fact that everything has been downsized, including the knobs and buttons, which make this instrument a bit less practical and fun to use than the original one or other replicas. 
It comes at a price of 350€, and you can read more about it here.
Behringer TD-3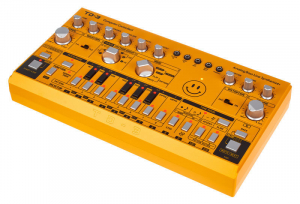 German manufacturer Behringer has become the industry-leading brand when it comes to cloning classic synths and drum machines, finding the right balance between affordability and quality of sound, and that is exactly what we have here. 
The TD-3 has fully analogue circuits that allow it to truly recreate the fat character and sound from the original 303.  It also features an on-board overdrive effect, MIDI control functions via USB, CV/gate and an external audio input to process other signals through the filter and distortion unit. 
On the other hand, the built-in sequencer is just as it was in the original, which is not that good as it never was really practical or intuitive for creating your own basslines. 
Furthermore, the construction materials are not as solid as the ones found in other clones, but this is for a reason: the price. With just around 100€ you can get your hands on one, which is just a third of the actual price of most of the other hardware clones, making the TD-3 a great choice.
You can learn more about it here.
Cyclone Analogic TT-303 BassBot V2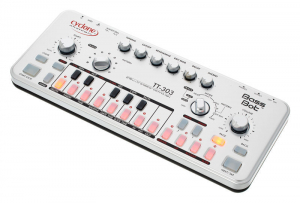 This one is also a fully analogue, great sounding clone, and its ergonomic redesign puts the focus on making it more enjoyable to play live thanks to the bigger knobs and clear front panel. The built-in sequencer is a great improvement over the original, making it way easier and faster to create your own patterns. It is also possible to inject some extra groove to your patterns through a shuffle control knob. 
Further features include customizable LED colors, adjusting slide time and gate length, and other small improvements that you can read about here in more detail. A carrying bag and a decksaver are also included, and for 330€ this is one of the best options available in the market. Get to know it in more detail here.
Acidlab Bassline 3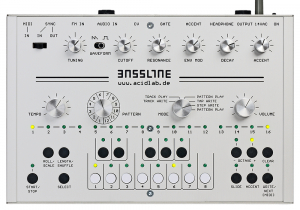 The last bit of hardware we are covering here is also a 100% analogue clone, with a solid construction and quality components and focused on delivering an experience as close to the original as possible: big, spaced out knobs and clear, simplified front panel that makes it really enjoyable to play and tweak. It's a very straight forward synth, what you see is what you get. There's no built-in effects or any major addition other than a significant improvement in the sequencer that makes it a lot more practical and easy to program than the original. 
This is the most expensive option, at a price of 550€, but it is also the one that best recreates the spirit of the old 303. Here is the link to the manufacturer's website for further information, although it is only in German. 
Software:
There's a few more options worth exploring in virtual form, particularly if you are more inclined to work in the box. We are going to cover the five most interesting out of the infinite number of 303 software clones in the market. 
Roland Cloud TB-303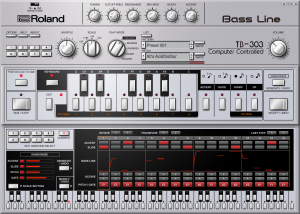 We are back again to the original manufacturer, as Roland also offers a virtual emulation included in the Roland Cloud subscription. It has been developed with the same ACB technology featured in the hardware version, so it manages to recreate the sound and character of the original. 
Furthermore, we find some very interesting additions, usually found in virtual synths, such as the option to save and load presets, not only patterns. There is also a new, deeply improved sequencer that allows us to program patterns in a faster, more intuitive manner.  We have new rhythm possibilities, like using triplets, adding shuffle or randomizing our pattern.
On top of that, there is a secret panel accessible through a tiny button on the top-right corner. There we can find the built-in delay and distortion effects, and we can also tweak the filter, oscillator and tuning settings.
The only con we can think of is the fact that we can't purchase this separately, it's only included as part of the Roland Cloud membership. Here you will find more info about the product and the subscription plan.
AudioRealism BassLine 3

Also known as ABL3, the third version of this famous software emulation is a favorite between artists and producer, as it manages to faithfully recreate the sound and character of the original. Aside from the usual soft synth functionalities such as saving presets, it features a more modern, practical and intuitive sequencer, and the possibility of tweaking the oscillator and filter behavior. There is also a really unique feature that allows the user to import bassline samples and automatically turn them into programmed patterns.
If this was a piece of hardware, we would be missing an on-board distortion unit, but since we are in the virtual domains, we can just load our favorite plugin to do the job. 
For 95€ this is a very good choice for the sound quality and versatility. You can find more info here.
D16 Phoscyon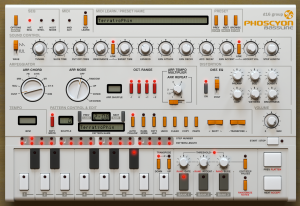 This is one of the most complete software emulations, and as you can see in the picture below, it offers extended controls in each of its sections (filter, envelope, accent and slide functions, fx) so you can really tweak your patches in-detail. Besides the usual benefits of soft synths we've been mentioning in the previous entries, Phoscyon comes with an arpeggiator and a chord generator that allow us to write more musically complex patterns.
The built-in sequencer is where we find room for improvement when compared to other emulations, but all the features mentioned above and its appealing 59€ price make the Phoscyon a choice to consider. Here is the link to know more about it.
Image Line Transistor Bass (FL Studio Only)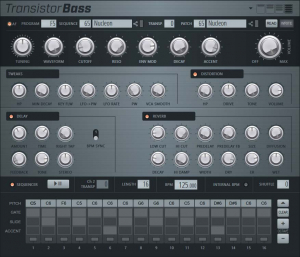 This plugin has been developed by Image Line, the makers of the infamous Fruity Loops, therefore it can only be used with that particular software. However, it is not included within the DAW's license, so if you want it you will have to pay 69€. 
In addition to the classic controls found in a 303 and the usual features of soft synths, this emulation has a really easy and practical sequencer, as well as built-in distortion, delay and reverb effects, a high pass filter, an LFO, pulse width control and the possibility of blending the classic square and sawtooth oscillators into one hybrid waveform.
If you are a Fruity Loop user, this is definitely worth to look into, you will find more about it here.
Yooz Music BL-303 (free!)

Finally, we have a free alternative for those of you who are looking to add a faithful recreation of the acid sound in your plug-in collection but are not really willing to pay for it. The sound is good, but the downside is that it's very basic in terms of options and functionality. It only offers the main 7 knobs in the 303: Filter cutoff, resonance (labeled emphasis here), waveform selection, tuning, envelope modulation, decay and accent intensity.  It doesn't even have a dedicated sequencer, although we can program slides and accents through the velocity of each note of the sequence we draw in our DAW. 
To sum up, it doesn't have the cool extras we can find in other emulations, but the sound is good enough, and the rest, we can get it by adding other plug-ins, so overall this is the best choice for free. You can find out more about it or go straight to download it here.