If you feel like the low end of your tracks doesn't sound as good as the ones of professional producers and engineers, we're going to show you a technique that you might not know about which has been used in studios around the world for years. 
This process, which will allow you to easily get solid, powerful, tight bass frequencies in your projects, is usually known as 'the Pultec trick', named after the infamous vintage equalizer on which this technique was developed.
Due to the widespread success of this EQ unit and the aforementioned technique,  manufacturers and software developers started to create clones and emulations of the Pultec EQP-1A and its variations that were able to replicate the sonic characteristics of the original in order to apply this technique, so nowadays we have ways to use this without the need of the expensive and rare original device. 
We'll look into that later, but first things first.
What makes this particular EQ so special?

The Pultec EQP-1A
Back in the 1950s, American company Pultec, which consisted of only two people – Ollie Summerland and Gene Shank, launched the EQP-1 and later the EQP-1A, an equalizer based on passive filter circuits that compensated the level loss at the output with a tube amplifying stage.
This tube amp not only dismissed the need of using a preamp together with the passive equalizer, but also added analogue warmth and color to any given signal that went through the unit, making it musically richer even without actually applying equalization. (See in the picture below 12AX7 tubes like the ones in the Pultec)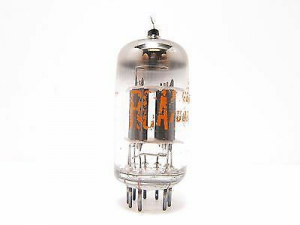 On top of that, although the EQ section was very simple, it was so well designed that it allowed the user to boost frequency ranges without messing up the sound, even with extreme values. This made it possible to give any track warm and powerful lows and bright, clear highs, depending on the EQ band that was used.
The EQP-1A became a classic, a favorite for mixing and mastering engineers world wide, even to the point that it is still a staple in professional studios more than 60 years after it was launched. Most of these units are still fully functional thanks to the quality and materials used to build it.
And that's not all. The engineers that used these units for years found out that they could benefit from them even more by using a process that seemed so counterintuitive, even contradicting the user manual. This would end up being known as 'the Pultec trick'.
So what is the Pultec trick all about?
As you can see in the pictures, the Pultecs have very simple EQ controls, a High Frequency section and a low frequency section, each one with a switch for selecting the frequency we want to focus on and then a couple of knobs for boosting or cutting that particular frequency band. 
The problem here is that these knobs work over the same one band that we selected on the switch, so we will need to choose between boosting or cutting, because, what would be the point of boosting and cutting the same frequency?
As counterintuitive as it might sound, this process of boosting and cutting the same low frequency band – usually 60 Hz, began to spread across engineers, since it unexpectedly delivered a tight, warm low-end. To learn more on getting better low end you should check out this free masterclass chapter from audio mixing legend Hannes Bieger.
As for why this happens, we won't get too technical here, but it's mostly due to the fact that the boosting and cutting circuits don't have the exact same parameters and components. Because of that, using them at the same time creates an EQ curve that is unique and impossible to achieve by using only one of the knobs.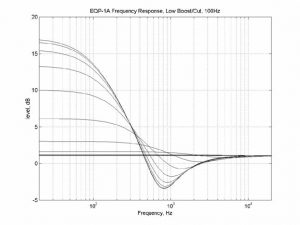 The Pultec EQ curve when boosting and cutting on 100 Hz
How do I use this trick in my projects?
This very simple but effective trick became so popular that some manufacturers and developers started to make their own devices that replicated the sonic characteristics of the EQP-1A, both in hardware and software, so nowadays there is a wide range of alternatives to get your hands on an equalizer that allows you to use this trick with good results.
The best results will probably come from the original Pultecs that relaunched in the early 2000s, or from the Tube-Tech PEC1 clones. The problem with these units is they are really expensive, with prices ranging from €2,800 to €4,000, so not everyone can afford them.
If your still not sure on mixing using these types of plug ins, check out international artist Matador giving a free masterclass chapter explaining more on analog stem mixing.

Tube-Tech PEC1
There's more affordable choices, such as the Warm audio EQP-WA for €699 or the PEQ-501A by Lindell Audio for around €500, which have both received very positive reviews by the specialized press.


Warm Audio EQP-WA
Regarding the software emulations, they deliver great results, even if the analogue warmth of the original device can't be exactly replicated due to their digital nature. They all offer great sound quality and the possibility of using this trick on your tracks.

UAD's software emulations on the Pultecs
We want to highlight the several options by Universal Audio, the PuigTec classic by Waves, Enhanced EQ by Native Instruments and Softube and the EQP-1A by IK Multimedia. 
Some of them are meant to be exact emulations, others add some new features, but all of them are great and the choice is probably more of a matter of taste and budget. 

Enhanced EQ by Native Instruments & Softube
There is another option worth mentioning, a really cool free plugin, so if you want to use this trick without paying any money then PTEQ-X by Ignite Amps is for you. It falls a bit behind when it comes to sound quality and results, but it also offers a higher number of frequency ranges to select, making it a more versatile EQ. 
If you want to up your skills further on mixing and getting your music ready for the clubs then this masterclass is perfect for you.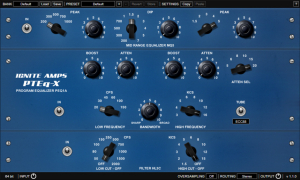 Ignite Amps PTEQ-X
Conclusions
Even though the EQ possibilities of the Pultecs and their clones might seem limited when compared to modern digital equalizers, if we are looking to bring character and musical color then the EQP-1A and its emulations are a great choice.
We hope this trick was interesting for you, and if you weren't using it already, start trying it out on your mixdown sessions to get those powerful, present and tight low end frequencies.